Back in March, during Paris Fashion Week, Chanel literally took over the globe with its punk inspired Fall/Winter 2013-2014 collection. What can I say, Chanel's Runway shows are always fantastic surrealistic works of art that complement all of its collections and generates tons of press for the brand.
From
an under the ocean theme
back 2011 in
to the inside of an airplane
to the
Paris-Bombay Métiers d'Art Show
, Chanel always is always surprising and impressing us. But for its Fall 2013 Show, the house decided to literally take over the globe, literally. At the center of the circular runway, a giant and detailed globe was placed at the of the venue, making a huge and an unforgettable statement. I know it is May, but I still had to write about this!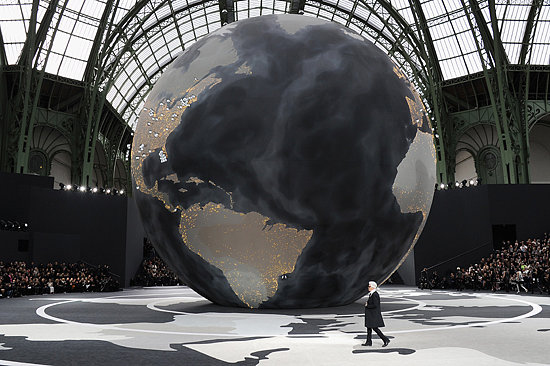 Not only was the globe the center of the runway. The collection also integrates the globe idea into bags that are sure to be part of editorial pieces for the Fall.
Source: stylebistro.com
In terms of the collection, its dark and urban, punk and rebellious city chic style (the boots of course) gave the pieces a youthful feel to the collection. Oversize coats, grays, blacks, and reds were the signature touches in the collection, classic colors for the Fall.
Photo Credit: Photo by Pascal Le Segretain/ Getty Images
Source: examiner.com
So, why would Chanel use the globe as part of its show? Chanel is one of the most powerful, successful and recognized fashion houses in the world. It was a matter of time before taking over the world. Scratch that. They probably already did.
Below is the video of the Runway Show:
Also, check Justin Fenner's article on Karl Lagerfeld's idea of the globe for the Fall 2013 show.
http://www.fashionologie.com/Karl-Lagerfeld-Globe-From-Chanels-Fall-2013-Show-28548286